Hello, I'm Scott, the other half of this blog and relationship. Kendra already talked about the journey of getting here and what this blog is all about so I guess all that's really left to me is to tell you a bit about myself.
A Celt at heart, I am often inspired by stories about and from ancient civilizations of all kind. I am a gamer, I've played just about ever RPG out there (most recently I've been playing Rouge Galaxy on the PS2 and Morrowind on PC).
Most of my life is lived in a fantasy world in my head split between writing novels (or short stories) and reading myths . I am obsessed with zombies and ghosts. The former can't come along soon enough and the latter is already here, but never seems near to me. Everyone I know seems to have ghost stories but I have yet to experience one. It's all very rude.
I've written dozens of partial stories and imagined hundreds of others. I just never finish them. (An aside from Kendra – Shut up and write your damn story! To the world: I read a LOT of books and am also a writer. I am in love with the stories Scott has created and would very much like to beat up on him until he finishes them and publishes them so the rest of the world can be in love with them too. You all should team up with me and keep on him about it, deal?/aside)
I've tried my hand at blogging before but have never fully committed. My personal blog, Everything Riding on the Turn of a Card, is mainly about Tarot and I'm working on posting more often on it.

I would give anything to be able to travel the world endlessly. I would brave tyrannical rulers, dangerous beasts, harsh environments…anything just to see everything there is to be seen.
Gamer, writer, drafter, archaeologist, travel journalist, ghost hunter, zombie killer. Some are dreams, others reality. All some small portion of me – but the best so far is fiance. My woman is the best there is. Crazy, stubborn and beautiful. She keeps me on track and forces me to achieve some small way to me dreams. Without her, my life would be no where near as fulfilled.
As far as this blog, I know well I'll keep up better as much pain and suffering awaits me otherwise. I'll probably post a good bit about the lore and myths of various places and civilizations delving also into the spiritual roots of the area including hauntings and local religions. Not to limit myself though, I could very well do anything in the end.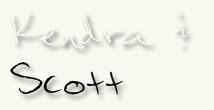 Be sure to check out our About Page for more info about me, our relationship and Loose Leaf Dreams. Also, check out our new flickr page or follow Kendra on Twitter and don't forget to subscribe to our blog via RSS. If you have any questions or comments feel free to contact us at any time!