I got a little behind on my posting last week! This was supposed to go up last Wednesday and I had it all ready, just forgot to finish and schedule it so here it is now!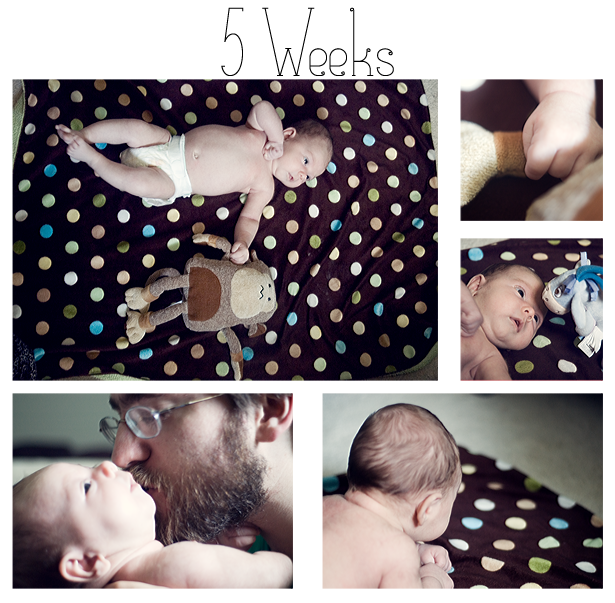 5 weeks! And 1 month old this week!
-I can't believe it's been a month, I can't believe it's only been a month.
-You have great strength in your legs and love to kick and try to stand while we hold you.
-You've been much more alert this week, just in the last few days you've been more aware of your surroundings I think.
-You still love love love staring outside, it is your favorite thing to do.
-You started looking at things that we shake in front of your face, you like your eeyore rattle!
-You had a doctors appointment this week and you weigh 11 lbs(!!) and are 23 inches long! You are so big already, stop growing for a while okay?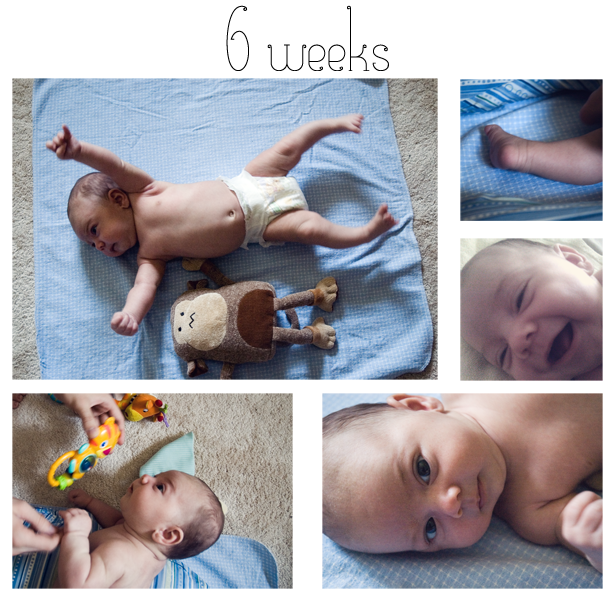 6 weeks
-Oh my gosh, you started smiling this week!! It's awesome! It's hard to get you to do it sometimes, so I had to include an instagram picture of it instead of a picture from my big camera.
-I've seen the hint of tears in your eyes now, none spill out but they are there when you cry really hard.
-You don't nap well for Mommy and Daddy, usually for no more than 30 minutes at a time but for Grandma you nap for hours.
-You usually sleep really well at night but you started waking up every 3 hours again the last few days, and we're hoping it's because we stopped swaddling you.
-We still haven't tried giving you a bottle yet. We should soon so you actually take it but it's a hard decision for me since you've had such a hard time with breastfeeding.
-During play time, we've started pulling out a few rattles, teethers and a toy with a mirror on it to help you practice grabbing. If we put a toy in your hand you'll hold on to it for a long while but don't reach and grab things on your own yet.
Check out past Baby Jeffrey Updates to see how he's grown!
Week 1 and 2
Week 3 and 4

Like a Bird is now listed on Top Baby Blogs! It would be so great if you vote for Like a Bird, all it takes is 2 little clicks. Just click on the banner below or the banner in my sidebar to the right.
(you can vote once every 24 hours!)